Based on the requirements of each individual project, some of these advisors/consultants will be joining HEF upon funding:
Craig Allen
Digital/Games/VR/Mobile
Craig has a proven track record building global interactive entertainment brands. He was the Co-Founder and CEO of Spark Unlimited, originator of Activision's CALL OF DUTY franchise. Prior to Spark, Craig was SVP/GM of Jim Henson Interactive; and a creative producer at Disney Interactive overseeing video games like TOY STORY and HERCULES.
Curtis Anderson
Financial Consultant
Curtis is a senior business executive with 30 years of cross-functional experience in many industries. Having co-founded two companies, both of which were acquired by publicly traded companies in multi-million dollar transactions, and turned around a third, he is acutely aware of the challenges faced by startup and high growth enterprises and what leads to long-term success. While his background is particularly strong in all areas of accounting, finance and operations, he possesses deep experience in developing and implementing systems and processes in corporate budgeting, reporting and analysis to growing organizations. He has held executive level positions in sales, marketing, product management and professional services.
Curtis is experienced in developing financial and operational models for mergers, acquisitions, divestitures and exit strategies for companies up to $100 million in revenue.
Devon Blaine
PR/Marketing
A professional communicator, Devon Blaine is the founder of The Blaine Group.
Blaine is experienced in all facets of the communications industry. Formerly an actress, model, and stunt driver, she founded the agency in 1975. Besides designing communications campaigns which help businesses maximize their success, she has long been active in numerous entrepreneurial organizations, thus earning a reputation as "the entrepreneur's entrepreneur." She has incorporated the knowledge gained from these ventures into the philosophy of The Blaine Group. The agency has an award-winning track record in serving the needs of emerging companies and major corporations alike.
Alan Brewer
Production/Music/Festivals/Post
Alan Brewer is the President/Owner of New Brew Entertainment, a Los Angeles area entertainment production company. He currently serves on the advisory board for the Hollywood Music in Media Awards, has served on the Board Of Directors of the Burbank International Film Festival and is a past President of the Board of Directors of the Nashville Film Festival (one of the longest running film festivals in the U.S.). Brewer is on the founding boards of FilmNashville and the Nashville Composers Association and is Los Angeles industry advisor to the annual packaging and distribution conference & market, Film-Com. He has been a Film Producer, Score Composer, Soundtrack Producer, and Music Supervisor on feature films and television productions for companies such as Universal, Miramax, Summit Entertainment, MGM, Fox, Warner Bros., Anonymous Content, Bold Films, CMT, and VH-1.
Alan Dale Enterprises
Technology/Social Media
Alan Dale is an Internet business and marketing expert with extensive knowledge and experience in business development. A visionary with leading-edge Internet technology and social media acumen. He also specializes in conscious and responsible business.
Conscious business in a larger degree implies that a business will seek to be conscious of its impact on the world in various spheres, and continue this inquiry over time. It is concerned with both its impact on a human's inner and outer world as well as animal and environmental well-being.
Jesyca Durchin
Producer/Family Entertainment
Jesyca Durchin is a successful producer known for innovative transmedia products for global brands such as Harry Potter, Barbie, Disney, her own IP products including "ALL-STAR CHEER SQUAD" (THQ) and "DIGITAL DOLLHOUSE" as well as part of Tim Burton's early production group in the 1990's. Jesyca continues to explore cutting edge digital experiences across all platforms including AR, VR and 3D printing for toys, theme parks, digital books, webisodes and more.
Happy Trails Animation, LLC
Animation | Visual Effects | Illustration
The award-winning studio of Happy Trails Animation creates exceptional artist-driven commercials, infomercials, and motion comics. Working collaboratively with clients, the team at Happy Trails is surprisingly versatile — expanding the limits of 2D/3D animation, transmedia marketing and motion comics. Sound design, music composition and graphic design services are also produced in-house.
Harvey Lowry
SFX Consultant
Harvey Lowry entered the film industry in 1990 and soon became the President and Director of Operations for one of the largest special effects and film production companies in California. Over the course of twenty years, he has collaborated on the production, special effects, makeup effects, visual effects, animatronics and/or specialty costumes for over 150 feature films, television shows, music videos, commercials and documentaries. He has directed 6 feature films and 12 television episodes, as well as independently produced 26 feature films, commercials and music videos and 13 television shows. Harvey has collaborated on the films THE PIRATES OF THE CARIBBEAN: THE CURSE OF THE BLACK PEARL, ALICE IN WONDERLAND, A BEAUTIFUL MIND, THE PASSION OF THE CHRIST, HANNIBAL, BIG MOMMAS HOUSE, and THE WATCHMEN and many others.
Louise Levinson
Business Plans/Docs
Louise is a highly respected financial consultant in the entertainment industry and has specialized in the creation of film business plans for almost 30 years. Her clients range from low-budget films such as THE BLAIR WITCH PROJECT, the most profitable independent film in history, to high-concept films with budgets exceeding $300 million. She is the author of FILMMAKERS & FINANCING:BUSINESS PLANS FOR INDEPENDENTS, currently in its seventh edition (Focal Press, 2013).
She has been a presenter and panelist at numerous industry conferences including the Sundance Film Festival, the Los Angeles Film Festival, Film Independent (FIND), Women in Film, Producer's Guild of America, the Galway (Ireland) Film Fleadh, the National Association of Broadcasters, the Hollywood Black Film Festival, the American Black Film Festival, the National Association Of Latino Independent Producers, Texas Accountants and Lawyers for the Arts, the Austin Film Festival, Florida Motion Picture and Television Association, Cincinnati Film Commission, Independent Cinema Expo, California Lawyers for the Arts, the Nashville Film Festival, and The Learning Annex in both New York and Los Angeles.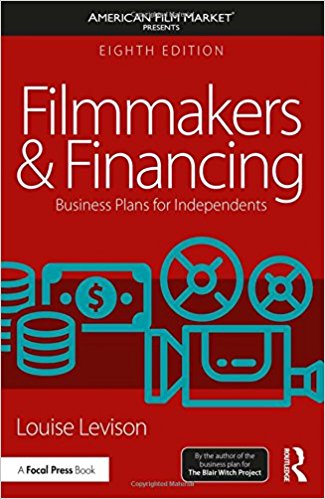 Alyssa Padia
Gaming
Alyssa's career in the interactive entertainment industry includes re-launching the Atari brand, developing international distribution markets for Sony PlayStation and negotiating national sports league agreements for Backyard Sports. At Sony Computer Entertainment Europe, she was a member of the senior management team launching PlayStation. Alyssa spent a number of years focused on her own start-up: Big Screen Gaming. Big Screen Gaming was a proprietary gaming platform that combined console-style gaming with the premium experience of movie theater sound and visual quality.
As a consultant on business strategy, development, sales and marketing (through her company Amplitude Consulting, Inc.), Alyssa has influenced brands such as Fisher-Price, Nimbus Games, Leapfrog and Sony Pictures Home Entertainment. She was recently COO of Information Humanities, Inc. a digital media company that publishes Glo Bible.
Franco Sama
Film Finance Consultant
Independent feature film producer Franco Sama boasts a remarkable and extensive history in public speaking, public relations and a decade of independent film development, production and financing. Sama has Executive Produced an impressive array of over twenty (20) independent feature films including most recently, GUNS, GIRLS AND GAMBLING starring Gary Oldman, Christian Slater and Dane Cook which is quickly becoming a cult favorite; this film was released into theatres on December of 2012 and, in January 2013, acquired a worldwide distribution deal from Universal Pictures. Sama also serves as Executive Producer on the recent film festival darling PETUNIA starring Thora Birch, Brittany Snow and Academy Award winner Christine Lahti.
His shingle "Samaco Films" is currently producing a slate of several independent feature films, including FAREWELL PARTY starring legendary actor, John Amos and FINE YOUNG GENTLEMAN starring funnyman Anthony Anderson. Samaco Films released two films in 2015, the first, THE LIVINGSTON GARDNER stars James Kyson the beloved "Ando" from the NBC television hit series HEROS and the second, 3 DAYS IN HAVANA starring Ally McBeal alum, Gil Bellows; both films have been released through Samaco Films' sister company, Synergetic Distribution and have been released via all digital and Video on Demand platforms worldwide.